Community Connect - July 2022
Dear Parents and Carers,
It's hard to believe that we have reached the end of the year, and what a year it has been! We have been so busy with so much to celebrate and I hope that this small sample of things to share with you below, gives you a flavour of the many things that we have taken pride in over the last few weeks at GHS.
I have been so proud of all of our students over the past few weeks, particularly our Year 11s and Year 13s who have coped so well with being the first year groups to sit examinations since 2019. Students in our other year groups have also excelled, whether that is through their academic commitment, their involvement in clubs, their demonstration of our 5 characters strengths, or their excellent behaviour.
We have been very excited to welcome our new Year 6s to our welcome evening and their induction day. We are also finalising our Post 16 admissions processes, and look forward to welcoming many of our students back in September, once they have received their results in August.
I have listed some key dates for you below for your diaries. Please note the dates relating to the end and start of terms particularly. May I take this opportunity to wish everyone a wonderful, relaxing Summer and to thank you all for your continued support throughout this year.
Mrs M Pye
Headteacher
Key dates
Last Day of Term
The last day of term is Wednesday 20th July 2022. Year 10 students finish at 11am; Years 7,8,9 finish at 12pm. Please note that Post 16 students finish on Friday 15th July 2022.
Results Days
Post 16 results day is Thursday 18th August 2022.
GCSE results day is Thursday 25th August 2022.
Return to school in September
Year 7 and Year 12 - Monday 5th September 2022.
All other year groups - Tuesday 6th September 2022.
Year 11 Leaving Celebrations
It was wonderful to say goodbye to our Year 11s during their final assembly on Thursday 30th June, where we celebrated their many achievements and their journey from young Year 7s students to the mature young adults we know and love today. Whilst some of our students will be moving onto pastures new for their Post 16 studies, we will be welcoming many back to GHS. We wish all of our Year 11s the best of luck in whatever they are going on to do next.
Javon nominated for 2022 Descendants Award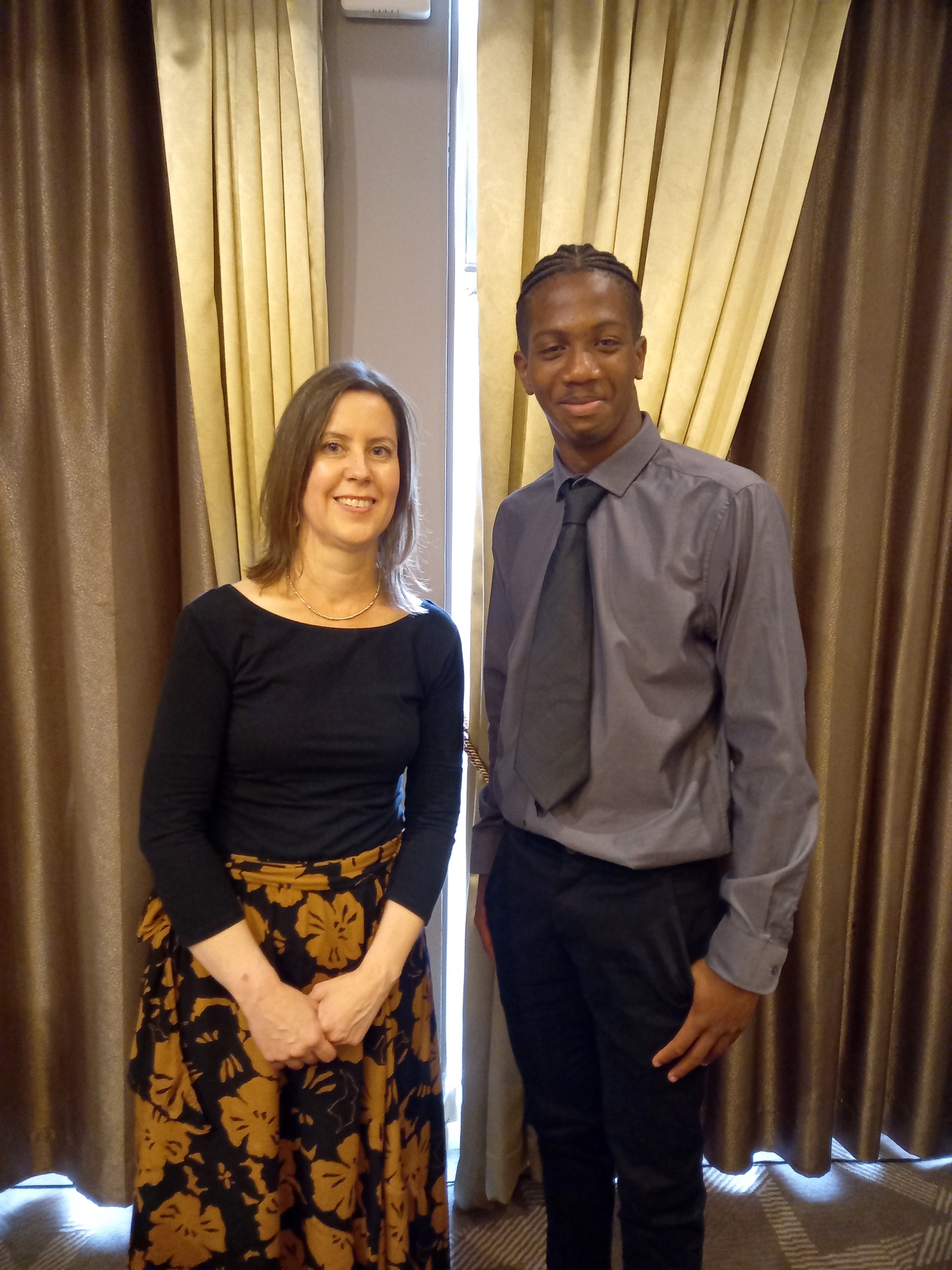 It was a great pleasure and immense privilege to accompany Javon Marquis, one of our talented Year 11 students, to the Descendants ceremony at the Hilton Hotel in Ealing Common on 2nd July. Javon was nominated for an award for his resilience in working towards his dream of pursuing a career in football, and for his perseverance with his academic endeavours with his commitment to academy football. Despite various setbacks along the way, Javon has 'stuck with it' and it is fantastic that he has now secured a scholarship with Sutton FC for next year. We wish Javon all the best.
Mr Dudman-Jones receives teaching award
We were delighted to hear that Mr Dudman-Jones, our Assistant Headteacher for Post 16, has received a Certificate of Excellence from the prestigious Pearson Teaching Awards for the '2022 Award for Unsung Hero'. Mr Jones has worked at GHS since 1993, dedicating most of his working life to our school, with the majority of it working directly with our Post 16 students to support them achieving their dreams as they progress to higher education. In his time, Mr Jones has supported thousands of our students to get into the top universities, a large number of those abroad, on full scholarships. This is a very well deserved and long overdue award for a dedicated life of service to our school.
Below: Mr Dudman-Jones with our former student Alda who has just completed her first year at Dartmouth, USA, on a full scholarship.
Sports Day
We enjoyed our first Sports Day at Perivale Park Athletics Track since 2019. The day started with participation events for all students to get active (see the sack race below!) before the track and field events in the second half of the day. The Year 7, 8 and 9 students were fantastic in really hot conditions and deserve great credit!
Sports news
We have had some very impressive fixture results this summer term. All of our Boys' Cricket teams made it to the borough finals or semi-finals, and even more so, our Year 10 Boys' Cricket team had a great cup run, reaching the semi-finals there too. Our U13 girls' cricket team came third in Middlesex out of 80 teams, and our Year 10 girls' rounders team were crowned borough champions. In Athletics, we had 16 podium finished in the borough events, and 6 of those made it through to the county finals!
It has been a great year for PE. We've relished in being able to run all of our extra-curricular clubs and fixtures, and we're very much looking forward to next year and more success.
CDIA exhibition
Our Creative/Design Industries and Arts faculty hosted a wonderful exhibition last week spanning Art, Photography, Drama, Music and DT. It showcased the creativity and technical skill Greenford students are developing every day.
Students return to Primary School to teach French!
Future teachers in the making? Jessica and Shayaan in Year 9 and Mansimran, Trushi, Rohan and Zohaib in Year 10 all did a fantastic job of teaching when they visited Lady Margaret Primary School with their French teacher Ms Williams.
Ms Wiliams explained how all of the students impressed her with their thoughtful lesson preparation, and with the maturity with which they approached the task. The year 2 students clearly enjoyed their first taste of French!
Media Awards Evening
We held our first in-person Media Awards ceremony since 2019 this term. The glamorous ceremony is based on the Hollywood Oscars and gives out prizes for the best GCSE and A Level Media coursework.
You can read the full story and see the list of winners here.
Below: Our GCSE and A Level winners Watanpreet and Tegan
Trips and Visits
We are so thrilled to be able to return to a full set of trips and visits outside of school, and other events in school. This is a key part of our school provision, and it is fantastic to be able to do this now that Covid restrictions have eased. In this final Summer term, we have run no fewer than 35 trips and a wide range of events within school!
Highlights include a Year 12 trip to The University of Oxford, a Year 9 trip to London Zoo, a Girls' Achievement reward trip to The London Eye, two trips to Thorpe Park, a Year 7 trip to Kew Gardens, a Year 8 trip to the Globe Theatre, numerous other trips to London theatres, various reward trips to go trampolining, a Geography trip to the Colne Valley, a trip to Kidzania and various walking trips in the local area. We were also delighted to be part of local events such as the Gunnersbury Park Ealing Music Service Festival and the Street Elite Festival in Southall, as well as continuing to develop our links with other schools such as Notting Hill and Ealing High School, who recently invited some of our students to a book launch.
GHS Spelling Bee
We were delighted to welcome three other Ealing schools to take part in our annual Spelling Bee competition which we have been able to run again this year. It was a tightly fought race, with all teams performing brilliantly and some exceptional spelling taking place. As a result of some excellent spelling, and some tactical decisions, we managed to maintain our winning streak and took first prize! It was a wonderful event. Well done to all of our super spellers!
Trikha Attends MFL Spelling Bee Final at Cambridge University
We are so proud of Trikha Madhan, from Year 7, who represented our school brilliantly at a MFL Spelling Bee Final at The University of Cambridge, reaching the last 107 students from the 19,000+ that began the competition back in September! Well done to Trikha - spelling can be hard at the best of times but she has managed to perform brilliantly spelling in another language!
International Day
We celebrated International Day earlier this month - an opportunity to represent our cultures and backgrounds and learn about the incredible diversity of our school. There were some magnificent performances, breaktime karaoke and lots more. You can read the full story on our website here!
More great work from

@ghsengofficial

- Year 8 have been reflecting on their progress in English and feeling proud of completing 3 workbooks of high quality learning over the year!

https://t.co/3jhSkRAhKB

20 hours ago

Follow
25 Aug 2022

GCSE results day is on Thursday 25 August.