Greenford students celebrate GCSE results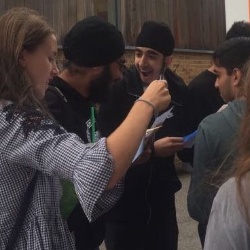 Greenford High School students are celebrating securing outstanding GCSE results.
Despite facing a raft of new qualifications and changes to the grading system, Greenford students brilliantly rose to the challenge to post some of the best results in the school's history.
In Maths, more than a third of students achieved a top 7-9 grade while in English 40% secured 7-9, equivalent to the old A/A*. Across all subjects, 35% of grades were 7-9 or A/A*. Overall, almost eight out of ten students secured a pass grade of 4 or higher in Maths and over 90% passed English at 4 or above.
Headteacher Mathew Cramer said: "This is an outstanding set of results and testament to the hard work from students and staff over the last five years.
"We have improved on a very strong set of 2017 results and may indeed be looking at our best ever results as a school. To achieve this during a period of unprecedented change in education is particularly pleasing.
Mr Cramer added: "We will shortly be welcoming our new Year 7 students into a new purpose-built i-Block and today's results will certainly inspire the next generation. Our GCSE results demonstrate that with the support of our staff, every student can make outstanding progress through hard work, resilience and the motivation to succeed."