Contact Us
Greenford High School, Lady Margaret Road Southall, Middlesex, UB1 2GU
Headteacher: Mrs M Pye
Admissions: Mrs S Mathadu
Post-16 Admissions: Mrs C Savory
Attendance: Ms S Percival, Ms N Banger
School Business Manager: Mrs T Ashley
SENCO: Ms G Nayyar
To report your child's absence please email attendance@greenford.ealing.sch.uk or telephone 0208 578 9152 extension 3007.
Opening hours
Greenford High School reception is open at the following hours:
Monday - Thursday: 7.30am - 5.00pm
Friday: 7.45am - 4.15pm
Directions
By Public Transport
Our nearest stations are Greenford Station (Central Line), Northolt Station (Central Line) and Southall Station (National Rail). However, if travelling by tube from London, Ealing Broadway Station has better bus links - E7, E9 and E10 stop outside the school. Plus E1, E2 and E3 stop at Greenford Broadway which is a 15 minute walk from school.
From Greenford Station
Take bus E6 (from the bus stop directly opposite the station) and stop at Greenford Sports Centre.
From Northolt Station
Take bus 120 (from the bus stop directly opposite the station) towards Hounslow and stop at Kenilworth Gardens. You can also take bus 282 towards Ealing Hospital or bus E10.
From Ruislip Station
Take bus E7 towards Ealing.
From Southall Station
Take bus 120 towards Northolt and stop at Kenilworth Gardens.
By Car
SAT-NAV postcode: UB1 2NP
School postcode: UB1 2GU
Please use the SAT-NAV postcode above as some navigation systems misdirect drivers using the main school postcode. The main entrance to the school is from Lady Margaret Road, by a zebra crossing virtually opposite Tesco Express.
Parking
Parking is also available in the streets surrounding the school, however visitors should be aware of severe parking restrictions around Freshwater Court, immediately to the left of the school by the entrance on Lady Margaret Road. Please refer to our Visitor Parking Guide for further information and a map outlining available parking.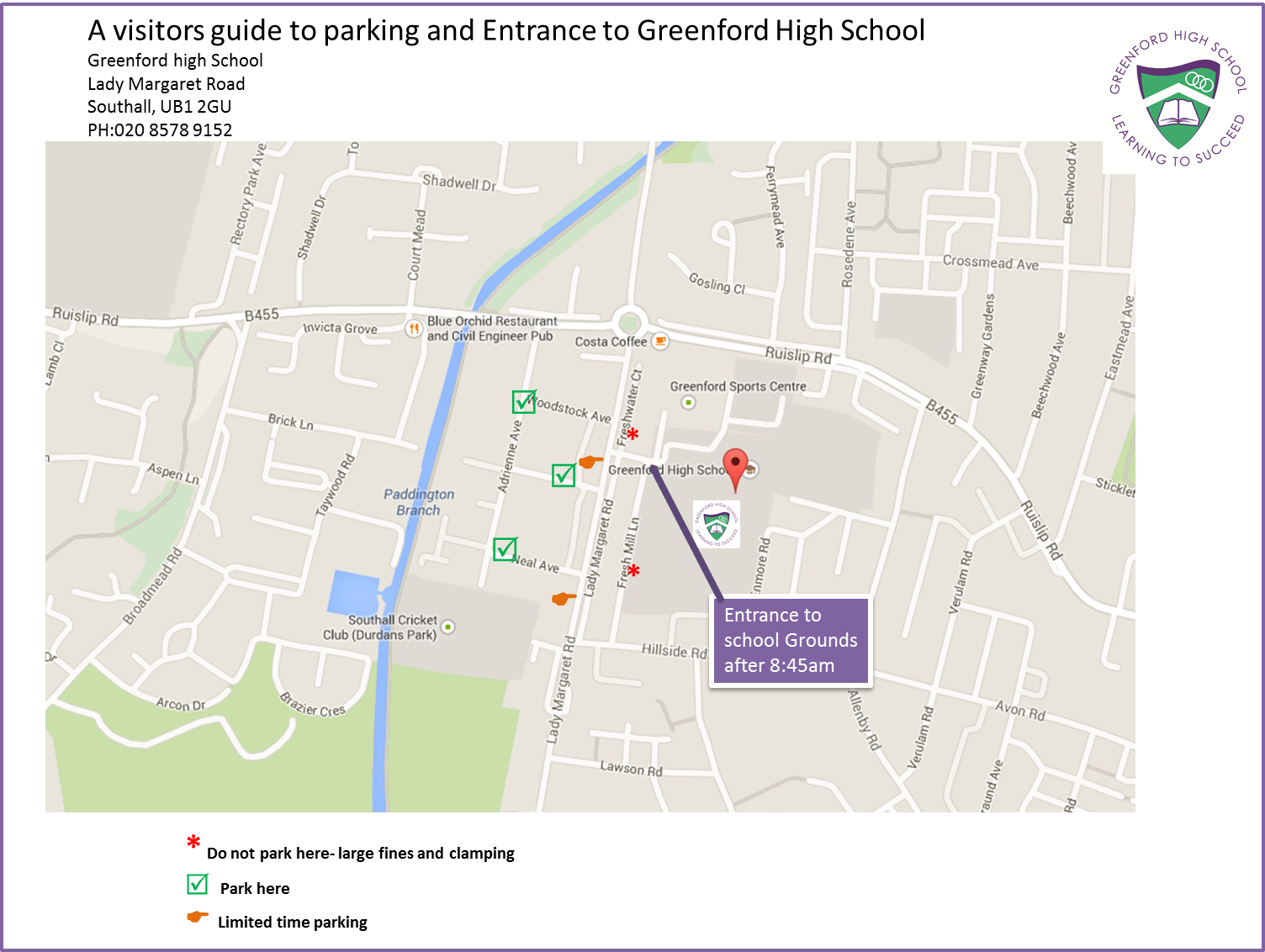 If you need paper copies of any of the information or documents on this website please contact us in writing using our contact form.