Greenford gymnast in medal haul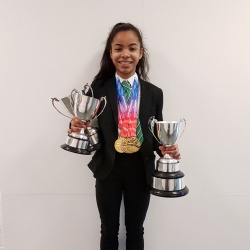 Alia in Year 9 won an incredible FIVE medals at the Olympic Hopefuls Gymnastics Competition in Liberec (Czech Republic) last month.
She won:
GOLD in the Beam
GOLD on the floor
SILVER in the All Round
SlLVER in the Team All Round
BRONZE on the Vault.
Alia's dedication, determination and desire to constantly improve is an inspiration to all of our students.
Further details can be found in the British Gymnastics report of the event.
Congratulations Alia!