GCSE results put Greenford in top 120 schools nationally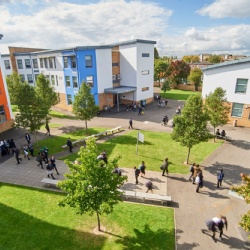 The Department for Education has published school league tables that put Greenford in the top 120 schools nationally for progress at GCSE.
Greenford High School's validated GCSE Progress 8 score from Summer 2018 is 0.84 and places us as the 119th best school in the country. In particular, our core subject departments are among the very best nationally:
Our English department is in the top 2% nationally
Our Science department is in the top 3% nationally
Our Maths department is in the top 4% nationally
Greenford Headteacher Mathew Cramer said: "It's great news for our community, seeing how well our students do compared to other schools nationally. We all know that schools shouldn't be judged on their positions in league tables alone – there is much more to education. But I have always said to parents that there's nothing wrong with being competitive and enjoying the satisfaction of getting good results.
"Our students and families take great pride from their achievements, and so they should, as these exam results help our students to access better career paths, university courses and apprenticeships. Above all, these results show what a dedicated bunch of students can achieve when taught by excellent teachers who are always prepared to go the extra mile."
These results are based on Progress 8 data – the progress a child has made in 8 key subjects. Ealing schools in general performed exceptionally well by this measure and the borough is now in the top 10 highest performing local authorities in the country for Progress 8. You can find more details on our Summer 2018 results on our Exam Results page.