Greenford in top 4% of schools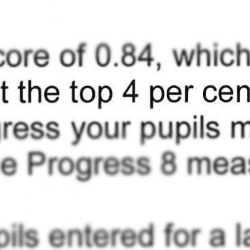 The Minister for School Standards, Nick Gibb, has written to Greenford High School to highlight the school's outstanding GCSE results.
The letter notes the school's Progress 8 score of 0.84, which means Greenford is amongst the top 4% of state-funded mainstream schools in terms of the progress pupils make between key stage 2 and the end of key stage 4.
The letter also acknowledges that 82% of Greenford students were entered for a language GCSE last year, putting the school in the top 12% in the country on this measure.
Mr Gibb writes: "Your school's language GCSE entries mean you are providing pupils with a firm foundation of linguistic knowledge, as well as broadening their horizons and enabling them to embark on further study.
"Thank you for your work in continuing the drive towards higher academic standards, and congratulations again to you and your staff for your hard work and professionalism."
Greenford Headteacher Mathew Cramer welcomed the letter: "I'm delighted to receive commendation from government praising the incredible progress students make at Greenford High School.
"Our students and families take great pride from their achievements, and so they should, as these exam results help our students to access better career paths, university courses and apprenticeships. Above all, this level of progress shows what a dedicated bunch of students can achieve when taught by excellent teachers who are always prepared to go the extra mile."
The letter from Mr Gibb can be found below.