Post-16 Open Evening for external students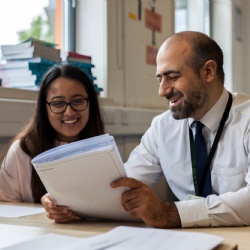 Our Post-16 Open Evening for external students is on Thursday 17 October at 4.30pm. More details >
If you are currently at another secondary school and would like to join our outstanding Post-16 centre in Year 12, we would like to invite you to visit the school for our Post-16 Open Evening – exclusively for non-Greenford students.
The Open Evening will consist of the following:
A welcome from the Head Teacher
Information about our outstanding Post-16 centre
A tour of the school
Subject-based workshops led by our passionate and highly experienced Post 16 Course Leaders
Doors will open at 4:30pm with the keynote address commencing at 5:00pm. The event will finish at 6:30pm. Places must be reserved in advance on our Post-16 booking site here.
You can find out more about our Post-16 centre, including courses and entry requirements, in the Post-16 section of our website.
Please note, students must be accompanied by a parent or responsible family member in order to attend this event.