Greenford students land in Beijing for international exchange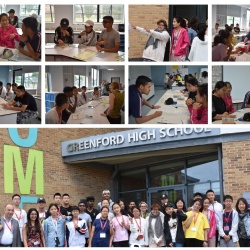 Year 12 students from Greenford High School jetted off to Beijing, China, to begin a six-day international exchange in partnership with the British Council.
The group of 11 students will spend six days in China, linking up with a partner school, Dongzhimen High School in Beijing. This school visited Greenford in July and took staff and students with them on a visit to Kew Gardens.
Greenford's students will learn about China's culture, its language and history through a variety of activities including working with pupils in the partner school and in visiting Tiananmen Square and the Great Wall.
Greenford High School Headteacher Mia Pye said: "We are thrilled our students have been given this once-in-a-lifetime opportunity to visit China. The chance to travel and learn about different cultures is something we believe all our students should be able to enjoy."
Cindy Yu of Dongzhimen High School in Beijing said: "We greatly welcome Greenford High School in London as our sister school in the UK and we hope that your students can visit us in a friendly spirit and improve their knowledge and friendship together."
Vicky Gough, schools adviser at the British Council, said: "This school exchange to China will immerse Greenford High School pupils in a very different way of life, and the memories they'll make will no doubt stay with them for years to come.
"International experience can have a positive and long-lasting effect on people's lives, which is why it's particularly important that we support pupils from disadvantaged backgrounds who might not otherwise get such an opportunity to learn about new cultures in this way."
Education Secretary Damian Hinds said: "School exchanges are so valuable, bringing subjects such as modern languages and international history to life as well as helping pupils develop into confident, independent and well-rounded young people."
You can find out more about the British Council's work in the attachment below.