Online music tuition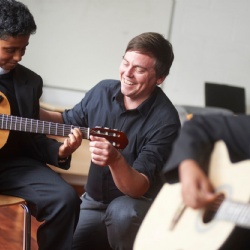 Ealing Music Service has now confirmed details of how music tuition will be provided while schools are closed.
We encourage all parents who have previously arranged for music tuition for their child to sign up to online tuition via this Ealing Music Service registration link.
A letter with full details of this service can be found attached below.
Signing up to online music tuition will ensure learning continues while schools are closed. We will then return to a full programme of tuition as soon as we are able to.
If you have any questions, please contact Mr Oag via email: doag@greenford.ealing.sch.uk
Thank you for your support in continuing music education at this difficult time.