Mr Thompson-Davis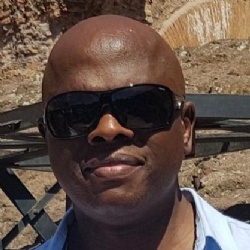 Greenford High School is devastated to report that Mr Thompson-Davis, one of our wonderful Science teachers, passed away late on Monday 4th May.
Mr Thompson-Davis had been suffering from Covid-19 which he had contracted after being admitted to hospital for something else.
Greenford High School Headteacher Mia Pye said: "Mr Thompson-Davis was a much loved member of the Greenford High School community; a superb teacher and a kind, generous, endlessly positive person. He had an unwavering belief in the ability of all students to succeed and was known by his colleagues as a deeply committed teacher, always available to support any student, at any time, who arrived at his classroom door.
"Mr Thompson-Davis touched the lives of many students and staff during his twelve years at the school and will be immensely missed by us all."
The school is co-ordinating the collection of sympathy cards which can be posted to the school and marked for the attention of 'The Family of Mr Thompson-Davis'. We have also set up a 'virtual book of condolence' on our student VLE where students and parents will be able to post messages that they wish to share about their memories of Mr Thompson-Davis.
A GoFundMe appeal set up by a former Greenford student, Ruth Ladani, raised almost £8,000 in just two days with over 400 people donating, demonstrating the outpouring of love for Mr Thompson-Davis.
We will be contacting Mr Thompson-Davis' family to discuss the best way for current Greenford staff and students to contribute gifts should they wish and will provide more details once we have spoken to them.
When we return to school, and are all back together as a community, we will commemorate Mr Thompson-Davis' life in a variety of ways, and provide a fitting tribute to this wonderful man.
We know that students will be very upset by this news. Even though school is closed to most students, we are still here and would ask students to reach out to their form tutor, Head of Year or another member of staff and let us know how they are feeling. There is also information on the student VLE about dealing with bereavement at this difficult time.