Musical instrument tuition starting for Summer term students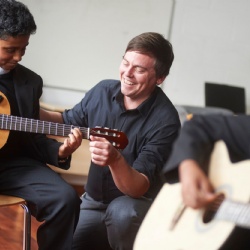 We are delighted to announce that instrumental music lessons will be starting from the week beginning the 5th October 2020.
All necessary risk assessments and precautions have been taken to ensure that these lessons can be carried out safely and full details can be found in the letter attached below.
If you have previously paid for tuition during the Summer term you will be enrolled on the Autumn term free of charge.
Students will be receiving their timetables next week and are expected to attend every lesson on time. We are not able to send reminders to students on the day so their own personal organisation is vital.
Music tuition bookings for new students will be offered towards the end of the Autumn term. More details will be on the website when they are available.
If you have any questions then please email Mr Oag: doag@greenford.ealing.sch.uk