Music extra-curricular activities and tuition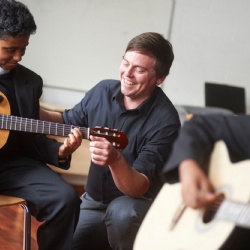 Music extra-curricular activities and summer term music tuition have begun.
Head of Music Mr Oag has informed students and families of some exciting developments for young musicians.
Music extra-curricular activities
Three new music-based after school clubs are starting this term. For Year 7 and 8 students, the Vocal Group will be running after school on Monday and the Percussion Group after school on Wednesday. Both will take place between 3pm – 3.30pm in either FG07 or FG17. The Year 9 Vocal Group will run after school on a Wednesday while the Year 10 and 11 Musical Theatre Vocal Group will run on a Thursday after school.
Email Mr. Oag if you would like to join: doag@greenford.ealing.sch.uk
Please note that a term's commitment is required for all music groups.
Summer term music tuition
Instrumental music lessons for the summer term have started. Please check the instrument Google classroom regularly for updates and to check your lesson time each week. Write the time in your planner so you do not forget. Please contact Mr. Oag for any enquiries regarding music tuition.