Summer concert livestream!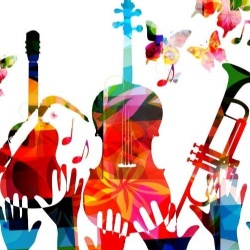 Our summer concert will be livestreamed on Wednesday 14 July at 4pm.
We are sadly unable to invite external guests to watch this year's summer concert due to Covid-19 regulations not changing until 19 July.
Instead, the concert will be available to view in three ways as detailed below:
Live for staff and participating students from 4pm in the main hall
Livestreamed over the Google meet platform (please see details below)
Recorded video (link will be available from Friday 16 July)
The students involved have been working hard to prepare the concert, and I hope you are able to view the concert in one of the formats listed above.
Live stream details - Important information
You must be logged in to Google with your staff or student school email address.
The video and audio quality of the stream may be quite low due to the technology available – please accept our apologies and bear with us.
You must have your microphone muted and camera off throughout the performance.
A member of staff will be watching for students that purposely attempt to disrupt the livestream and sanctions will be applied.
Link to join the live stream:
GHS Summer Concert 2021
Wednesday, 14 July 4:00 – 5:00pm
Google Meet joining info: https://meet.google.com/xzh-dcau-azf
Mr Oag
Head of Music