Summer concert video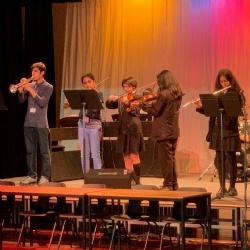 Our summer concert is now available to watch on video.
A huge thank you to Mr Oag, the Music department and all the students that took part!
Thank you also to our small audience of staff and performers who provided richly deserved applause after each performance. We hope we will be able to invite guests to future concerts if Covid-19 restrictions are relaxed.
The concert is available in three parts below:
Part 1:
Part 2:
Part 3:
Bonus video! Here's our Year 7 Percussion group: