EMStival Ealing music festival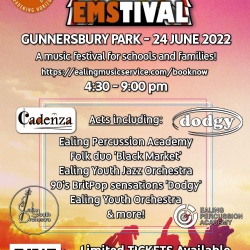 An exciting day of music is coming to Ealing in June.
On Friday 24 June at Gunnersbury Park, Ealing Music Service will be running a school-based event during the day, where we have 1500 school children booked on from multiple schools to enjoy live music and workshops at 'EMStival'.
In the evening (4:30 – 9:00 pm) we are holding a public event, which will be an opportunity for families and friends to picnic in front of some amazing live music ranging from professional acts to some of Ealing's best young musicians.
You can find out more and to book tickets here.
Music acts include:
90's Britpop royalty 'DODGY' ('Staying Out For The Summer' & 'Good Enough')
Ealing Youth Jazz Orchestra
Ealing Percussion Academy
Ealing Youth Orchestra – and much more…
We hope to see you there!