Oscar night glamour at Greenford's Media Awards!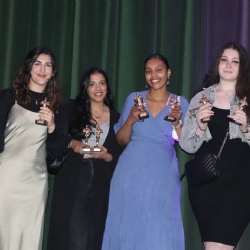 Greenford High School held its first in-person Media Awards ceremony since 2019 this week.
The glittering awards ceremony, based on the Hollywood Oscars, saw staff and students gather once again to celebrate the incredible creativity across A Level and GCSE Media Studies. Video production work included TV drama extracts and documentaries spanning a wide variety of genres and topics.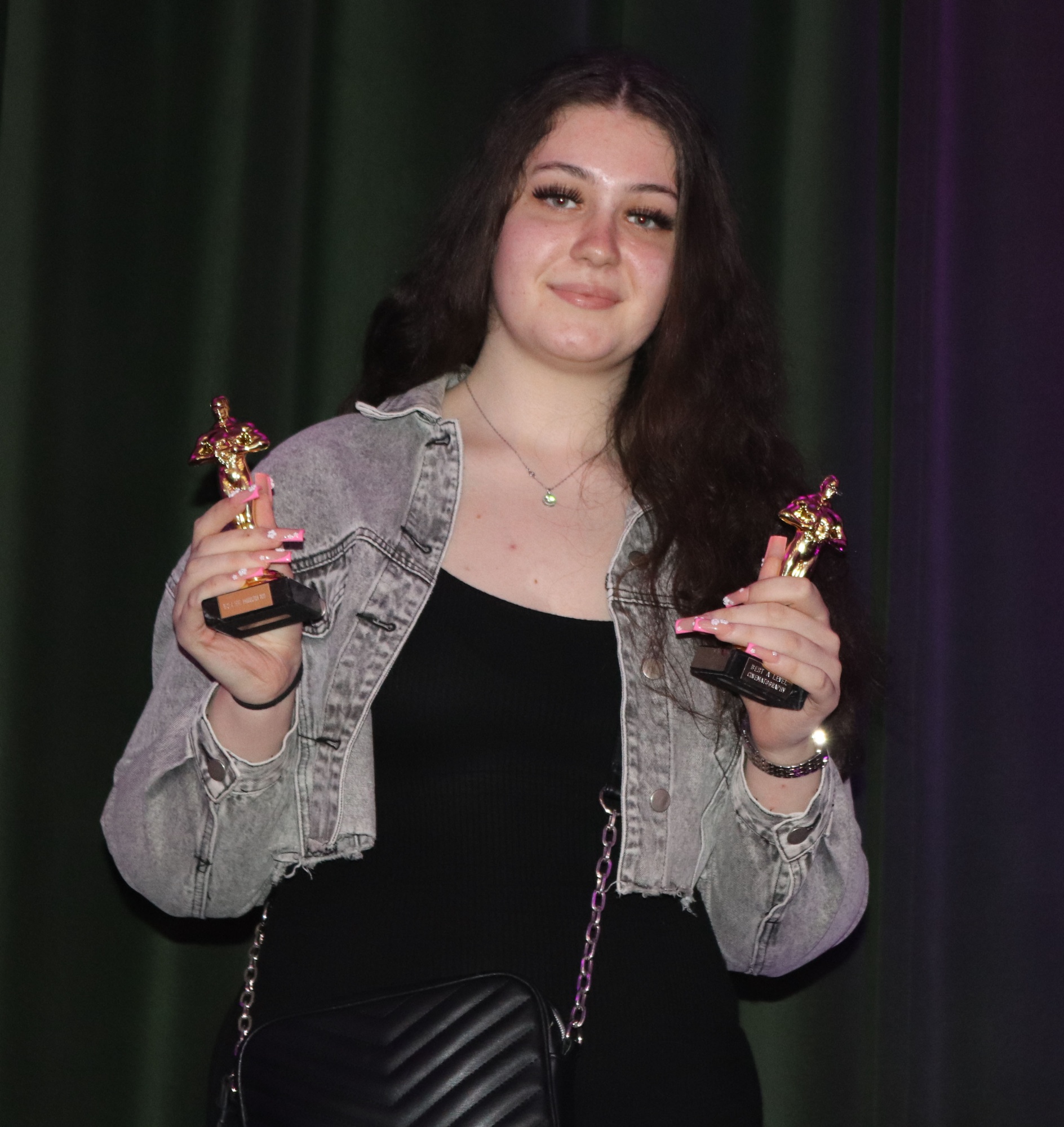 As ever, the students were decked out in finery as the spotlight shone on the recipients of the prestigious awards. Categories included Best Cinematography, Editing and Production Design as well as Best Actress and Best Actor – plus the People's Choice awards voted for by Greenford students in assemblies.
The final awards of Best Production at GCSE and A Level were awarded to Watanpreet for Merge and Tegan for her documentary Obesity 111. Randa took home the People's Choice award at A Level for her documentary Guilty Until Proven Innocent while Harrison secured the GCSE People's Choice for Galactic Escape.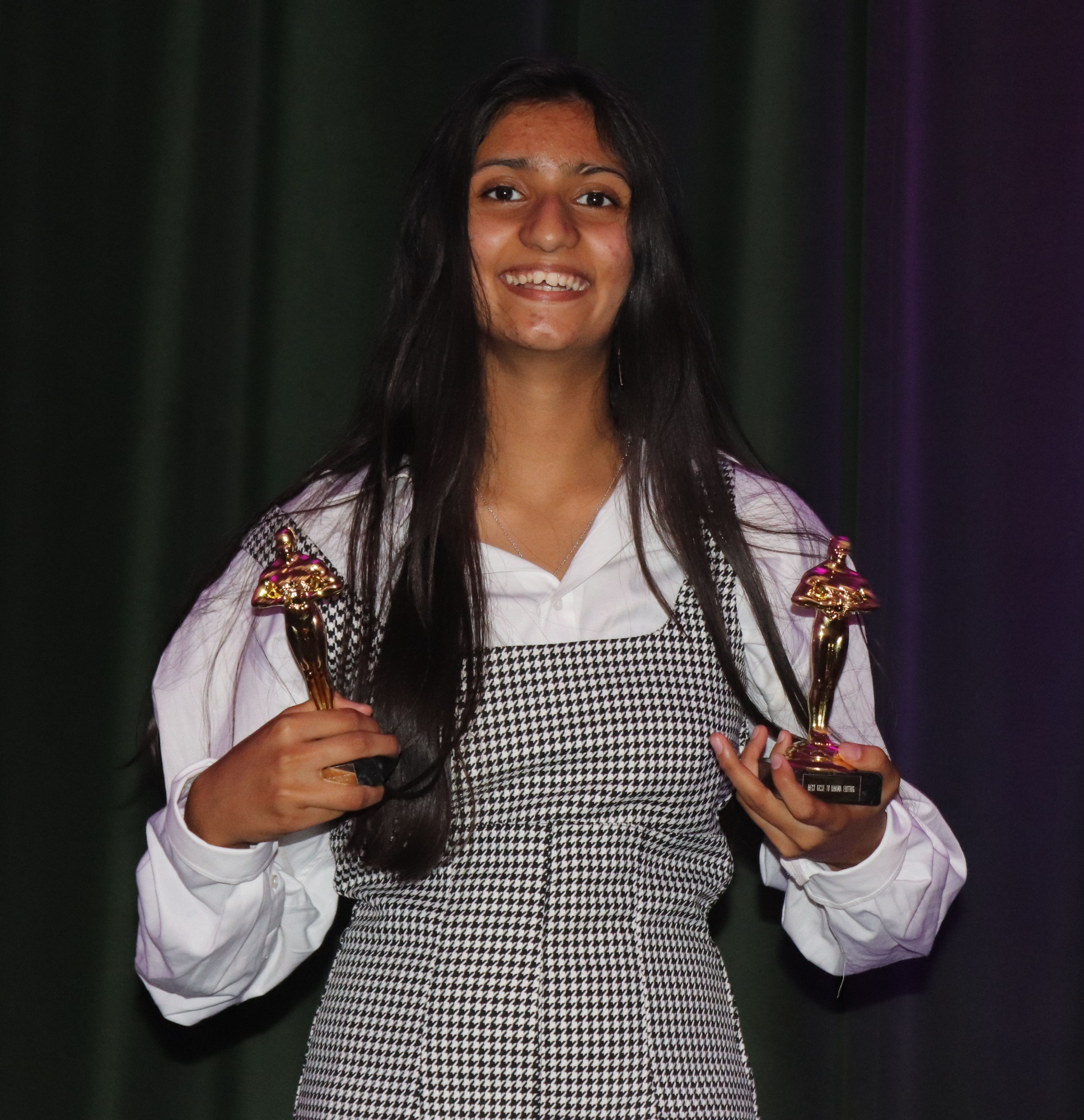 Greenford High School Head of Media Will Halsey said: "It was wonderful to be able to run our first in-person Media Awards since 2019 and the students did not disappoint. The standard of the work was exceptionally high and it was great to see it on the big screen in front of such a positive audience. This work will be as good as any GCSE and A Level Media productions you will find anywhere in the country."
Headteacher Mia Pye said: "It was such a fantastic night and the quality of the work really shone on the big screen. Congratulations to all our winners and nominees and well done to our students who supported the event so positively."
The winners in full:
BEST A LEVEL SOUND DESIGN
Harneet – Love Theory
BEST A LEVEL CINEMATOGRAPHY
Tegan – Obesity 111
BEST A LEVEL PRODUCTION DESIGN
Assia – 90s Reload
BEST A LEVEL EDITING
Randa – Guilty Until Proven Innocent
BEST A LEVEL DOCUMENTARY CONCEPT
Dania – No Friend But The Mountains
BEST A LEVEL POST-PRODUCTION
Gamid – Covid: Crushing the Economy
BEST GCSE TV DRAMA CINEMATOGRAPHY
Lilly - Paranoia
BEST GCSE TV DRAMA ORIGINAL SCREENPLAY
Khaterah – Purple Hyacinth
BEST GCSE TV DRAMA EDITING
Watanpreet – Merge
BEST ACTRESS 2022
Nasra
BEST ACTOR 2022
Kaidian
GHS CHARACTER AWARD 2022
James
LED FACTORY OUTSTANDING CONTRIBUTION TO MEDIA 2022
Gamid
GCSE PEOPLE'S CHOICE AWARD 2022
Harrison – Galactic Escape
A LEVEL PEOPLE'S CHOICE AWARD 2022
Randa – Guilty Until Proven Innocent
BEST GCSE PRODUCTION 2022
Watanpreet – Merge
BEST A LEVEL PRODUCTION 2022
Tegan – Obesity 111