Greenford sends over 200 students to university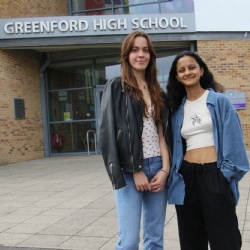 Greenford High School is thrilled to confirm that 218 students who received their results in August 2022 are now studying at university.
This includes 51 students at Russell Group universities, 22 students at a top ten UK university, six studying Medicine, three at Oxford and Cambridge and one student securing a scholarship to Claremont McKenna College in the USA.
The most popular subjects include Economics, Psychology and Computer Science with eight students securing places at the prestigious London School of Economics.
Greenford High School Headteacher Mia Pye said: "We are incredibly proud to send so many of our students to university and recognise what an incredible life-changing impact this will have.
"Despite the challenges of Covid-19 lockdowns and all the changes to exams our students and staff can be hugely proud of their achievements.
Mrs Pye added: "We passionately believe in supporting our students to the right destination for them. Regardless of whether the next stage is university, an apprenticeship or the world of work, I know Greenford will have given them the knowledge, skills and confidence to take that next step."