MOANA JR. SCHOOL MUSICAL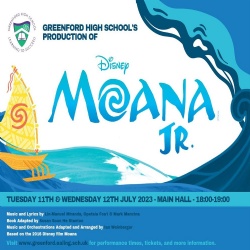 Book your tickets to see the school musical
The Greenford High School production of Moana Jr. the Musical will take place on Tuesday the 11th and Wednesday the 12th of July 2023, from 18:00 - 19:00 in the main hall.
Please book your tickets by completing this online form.
Tickets are priced as follows:
Children under 11 - Free
Standard child (11-17) - £2
Adult - £3
After completing the form, please pay the correct amount by logging into Parent Pay where there is an option to pay for the tickets.
If you have any questions please email bgunn@greenford.ealing.sch.uk