Winter Performing Arts Evening 2023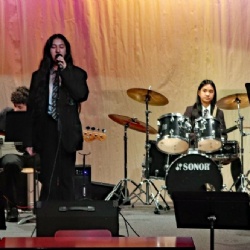 Tuesday, December 19th.
17:00 - 19:00
Main Hall
Our Winter performing arts evening will take place on Tuesday, December 19th in the main hall. This year will showcase students from the music and drama departments.
The event starts at 17:00 and will end at approximately 19:00.
Tickets cost £2. Children under 11 can attend for free.
Please Complete this online form to confirm your attendance.
Payments for tickets should be made through the ParentPay system.
No physical tickets will be issued. A list of payments received will be available to staff on the door.
Your support of the arts at GHS is appreciated.
Yours sincerely,
Mr Oag