Year 7 excel in 'Race for the Line' competition at GHS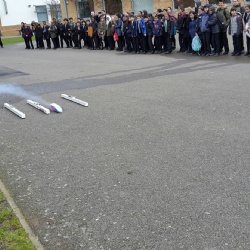 Well done to our year 7s who took part in the national rocket car competition, run by RAF Northolt.
Students were put into teams to design, make and test their own body, wheels and axles to enter this competition challenge and had an array of STEM lessons covering key topics in Science, Mathematics and Technologies with successful results.
Squadron Leader Chris Coates said "GHS had the fastest cars so far! They were averaging 70-80 miles per hour!"
The fastest team will be competing against other schools at RAF Northolt in May.
Many thanks to our DT team for organising this spectacular event.