GHS pupils attend Ealing Teen Read final and meet author Holly Bourne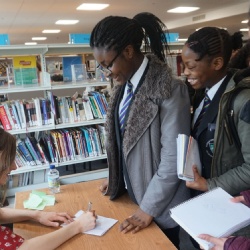 14 GHS pupils attended the final of the Ealing Teen Read at Elthorne Park and met Holly Bourne, author of 'Am I Normal yet?' and 'It only happens in the movies.'
Holly talked about how she began as a writer and her work in journalism and relationship guidance, and then read from her book 'Am I Normal Yet?' which won last year's Ealing Teen Read.
The pupils have been reading a selection of 6 books since November and voted for their top 3. 8 schools participated in the event and the winners were as follows:-
Winner - After the Fire by Will Hill
2nd place - Contagion by Teri Terry
3rd place - Born Scared by Kevin Brooks.
Congratulations to our pupils for taking part and enjoying reading for pleasure, and many thanks to Mrs Secombe and Ms Williams for this fantastic opportunity.