Year 8 CyberMentors graduate to lead in online safety at GHS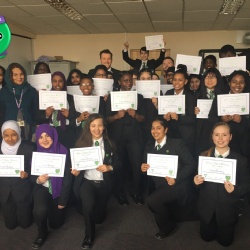 Congratulations to our 30 Yr. 8s who successfully graduated as fully-fledged CyberMentors, following a 2 day training programme covering online safety, critical thinking and peer-mentoring skills.
As well as developing strategies to combat cyberbullying and build pupil resilience, our pupils were delighted to meet and share top tips to stay safe online with Councillor Binda Rai, who oversees education in Ealing - http://ealingnewsextra.co.uk/features/cyberbullying-success/
The training is part of Greenford High School's new 'CyberMentorPLUS' project for Ealing. Thanks to funding from John Lyon's Charity, this initiative will support schools to develop a whole school approach to address online risk, through training and awareness sessions for staff, pupils, parents and governors, as well as personalised programmes for vulnerable cohorts across the community.
CyberMentorPLUS will be delivered to Ealing schools over a three year period from January 2018.
To find out more about the new CyberMentorPLUS Project or express an interest in applying, contact Mubina Asaria: masaria@greenford.ealing.sch.uk