GHS student celebrates gold at the British Gymnastics Championships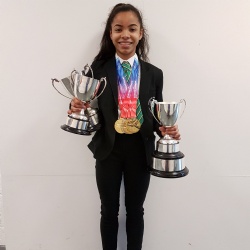 Alia in 8T1 has won 3 gold medals and one silver at the British Gymnastics Championships in Liverpool.
Alia won gold in the Vault and Beam and silver on the floor.
Alia told the British Gymnastics website:
"It feels great. I wasn't expecting to come first. I was aiming for top six but it just got better so I'm really happy. I started floor and my double-pike I bounced out a little but the rest of my tumbles were okay and got a good score. Then I did vault and it was alright but could've gone a bit better. My bars I went through and I was happy. And then my beam was really good, I was really happy. It was crazy (to see my name number one on the scoreboard), I just looked up at my mum and was so happy. I really want to be in GB squad and then I'd like to go to the Olympics and win a medal on beam."
Congratulations to Alia on an incredible achievement. We look forward to seeing her compete in the Olympics in future!