Back (and dry!) from Valencia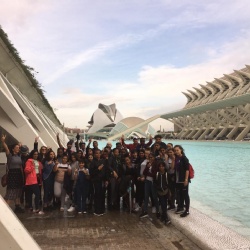 This year's MFL trip to Spain was a resounding success despite the less than desirable weather conditions.
Students refused to allow the worst rains in over a decade to dampen their spirits and enjoyed their experience to the maximum. They explored Spain's third city by foot, covering over 50km, visiting the central market, the Fallas Museum and futuristic buildings of the City of Arts and Sciences.
Our students were an absolute credit to Greenford High School, their inquisitiveness, sense of humour and overall positivity meant that this trip was an absolute pleasure to run.