Foundations are laid for new Key Stage 3 block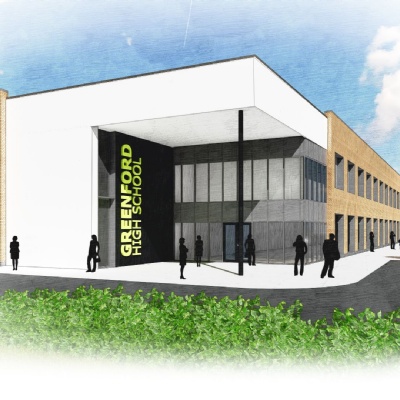 The foundations have been laid for a brand-new Key Stage 3 block at Greenford High School.
The £9m building is on track to open for September 2018 and will eventually house 600 Year 7 and 8 students.
Purpose built for younger students, the i-Block will operate as a mini-school in its own right, creating a stepping stone between primary education and the start of GCSEs.
The building has been designed to be a welcoming educational environment for these younger students: only two storeys high so that it is less imposing and no bigger than most primary schools. The 'boomerang' shape of the building provides a window to the outside world and a protective hand to keep the students safe and secure. It will also contain specialist Science labs and smaller rooms for students who need extra help with English and Maths.
Osborne, Greenford High School's construction partner, is currently ahead of schedule with the steel frame of the building imminent.
Greenford High School Headteacher Mathew Cramer said: "We are delighted to announce the i-Block is on track to open next September, building on the recent success of the school.
"Over 230 students in our last Year 13 cohort have taken up places at university and we look forward to helping even more young people in our local community develop the character, academic excellence and skills for work that are required in the modern marketplace.
"I am particularly pleased that the i-Block will be built in the same spot as the original Greenford County School. The original school opened its doors to students in 1939 in the first week of World War II and welcomed students who had been evacuated from across London. The opening of the i-Block will link the earliest days of the school with its future."