Head's Welcome
Welcome to Greenford High school, an outstanding, high achieving, truly non-selective comprehensive.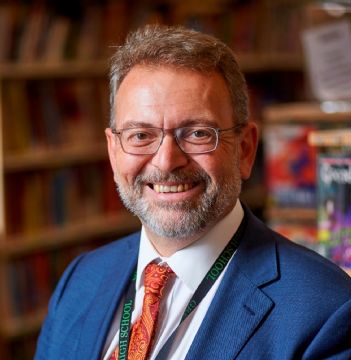 Greenford High School was graded as Outstanding in our last Ofsted inspection, and other recent objective external measures confirm this judgement. Perhaps the best measure of a school is the Progress 8 score: the progress a student makes from the end of Primary school to the end of Year 11, as measured across 8 GCSEs including Maths and English. Simply put, the progress that our students make has consistently put us in the top 5% in the country over the last decade.
The DfE performance measures show our Progress 8 score as 0.84 in 2018, placing us in the top 120 schools in the country on this measure. We are delighted that the outstanding work by our students, staff, governors and parents is being recognised, but we remain ambitious to continue to improve. Our philosophy will remain the same: we are a reflective, self-critical institution that focuses on developing learning and teaching. We live by our mission statement and by our motto – we are simply Learning to Succeed.
Our curriculum is innovative and flexible, meeting the needs of the individual student. Our students begin with a two year Key Stage 3, focussing on Maths, English and reading. Our KS4 starts in Year 9, where they have an impressive range of choices, addressing the needs and interests of the individual, and this continues at Post-16. We teach everything from Psychology to German, Photography to Government & Politics, Economics to Physics, Media to Business, Computing to Sociology.
We believe in students achieving excellent academic results and going on to university or apprenticeships. Indeed, approximately 240 of our Year 13 students went on to higher education at the end of 2019 – many to the best universities, including Cambridge, Oxford, Princeton, LSE, UCL, Kings, Warwick and Nottingham. Our school site and buildings are actually based on the model of a modern university campus with different faculties of learning, such as the Maths and Science block, partly to encourage students to continue their studies at a higher level. But we are also an inclusive, multi-cultural, mixed gender, multi-faith, truly comprehensive school which accepts every type of student and tries to get the very best out of them, whatever their ability or personal circumstances. This philosophy is at the core of what Greenford High is all about.
For prospective parents, we should make it clear that we have only two selection criteria. Firstly, we take brothers and sisters of students as we believe very much in the strength of the family. Our second criteria is proximity and the vast majority of our students live less than a mile from the school. Each year group has 240 students (300 in year 7) and we are heavily over-subscribed (with the highest amount of applications in Ealing for the last three years), while our Post-16 centre has up to 600 students, some joining us from other schools in Year 12.
There are many other things I should briefly mention: our new i-Block for Year 7, which opened in September 2018; our great facilities; extensive ICT resources; one of the biggest Post 16 centres in London; a fantastic pastoral system with many dedicated professionals, without a teaching timetable, constantly on call; superb sports facilities and a great PE department; wonderful curriculum enrichment, with clubs, drama and concerts – and over 150 trips in the last academic year; a dedication to developing staff as part of the collective Ealing Teaching School Alliance; an emphasis on teaching morality, good behaviour, respect for others and developing a social conscience in our students; cutting edge work on e-safety through our cyber-mentoring scheme, which we train other schools in; raising over £90,000 for charity in the last eight years – the list goes on.
However, what makes Greenford High School special is not the buildings or facilities but our desire to keep on improving. The positive relationship between students, staff and parents is what we are most proud of.
Mathew Cramer
Headteacher