Uniform
At Greenford High School, we believe that a smart school uniform helps to set a purposeful atmosphere for learning. Full details of our school uniform can be found below.
Greenford High School uniform
Black trousers/skirts
Black blazer with school badge
Sensible and sturdy black shoes: Beckett/Waltham leather lace-up shoes in black sold at Shoe Zone and Sports Direct. Further guidance on acceptable shoes can be found in the attachment below.
Black or white socks
White shirt
Key Stage 3 – green tie with purple and gold stripes (clip-on)
Key Stage 4 – purple tie with green and gold stripes (clip-on)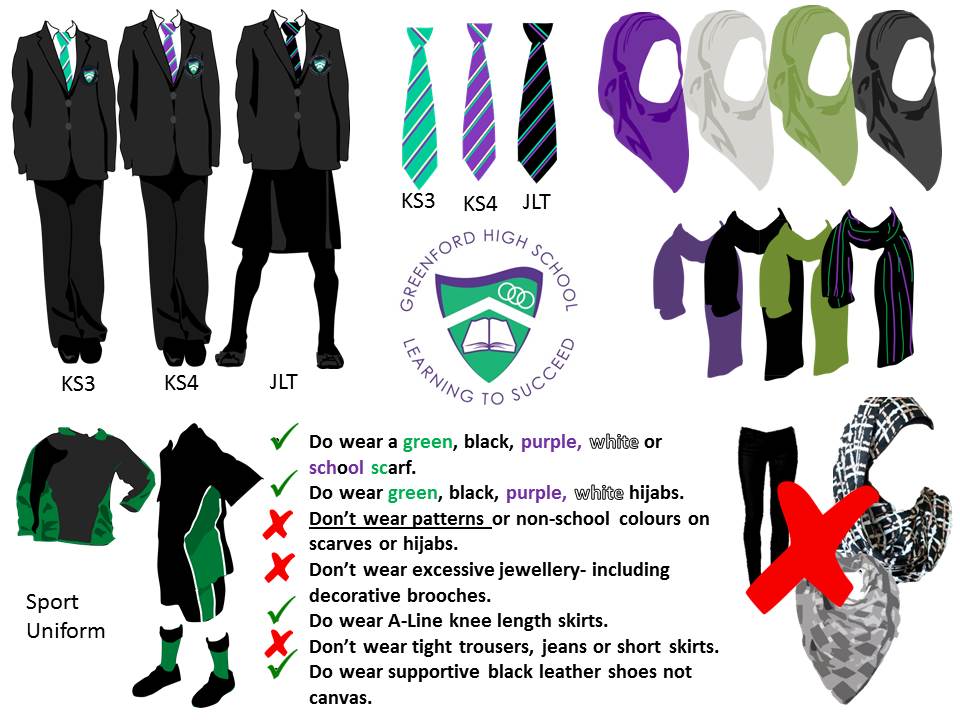 Sports kit
Students already at the school can use their current kit. However, new Year 7 students and those joining the school or replacing items will find our new kit on sale at our usual suppliers in Greenford and Southall.
Polo shirt and shorts: black with a green stripe on the sides and white trim
Reversible long sleeved sports shirt: black with a green stripe on the sides; all black with a green collar when turned inside out
Socks: green with a black trim
Tracksuit bottoms: black (can feature green stripe)
Jewellery and headscarves
Jewellery: should be confined to simple items such as ear studs, or one plain ring and watches of no great value. Students wearing items of jewellery not permitted in school will have them temporarily confiscated (usually until the end of the day or week).
Headscarves: black, white, green or purple – but must match school colours
Scarf: students should now buy our new scarf, available from the suppliers below. Please ensure this is clearly named.
Uniforms and the school sweatshirt can be purchased from Kevin's on Greenford Broadway or from Fashion Mark, 88 South Road, Southall, UB1 1RD. Uniform vouchers from London Borough of Ealing will be accepted in payment for badges and ties.