Latest updates from your #GreenfordFamily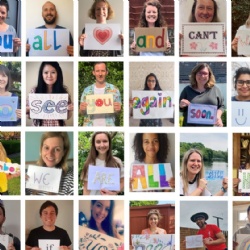 As we approach our seventh week of lockdown, we want to remind all students and families that we're here for you.
It's been an incredibly difficult few weeks with normal life changed beyond recognition. Our staff are mostly working from home setting work, emailing students and conducting lessons via Google. We're also here for you if you have any worries or anxieties during this time – contact your form tutor by email or for safeguarding concerns email childprotection@greenford.ealing.sch.uk
You can read Mrs Pye's latest update for parents and carers here. This includes important information about how we are contacting parents and carers moving forward as well as details regarding exams, safeguarding and who is able to attend school currently.
Work to do at home can be found on our school closure website: https://www.greenford.ealing.sch.uk/schoolclosure
Details on how our music tuition is moving online can be found here.
Advice for parents during coronavirus from the Ealing school nursing service is attached below. Also attached below is a school nursing guide to staying well at home.
We don't know when schools will re-open but until then we're still here for you online. How many of our Greenford staff can you identify in the image?